Tom Fulp decided to give us all a brand new toy! An actual blog system! You can get the full details in this thread or on his news post. So there is quite a bit excitment about it, especially for myself. So this is just me playing around with this new system.
---
Holy crap did you see that? I made a horizontal line! Do you know how amazing this is going to be for The Interviewer? No more having to make spacer with  stupid little "=" marks! Oh and if I am quoting someone like this...
Dude, you have a fucking giraffe neck
I can do that nifty little quote thing as well! That's awesome! It's a bit weird to work with though. It is do-able though. Also it does get confusing for when I want to go to another paragraph how it does an automatic spacing for me. That I'm not to keen of, but I can manage, since other blog sites and word processors work the same way. I guess I just like a bit more control. Can we still do bold font ourselves? <b>Like this?</b> We shall see. However one thing that will become very beneficial is the use of mutliple pictures.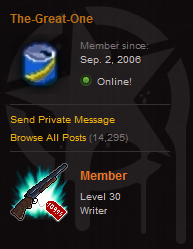 The-Great-One's Stats
Aren't they Amazing?
---
Why yes. Yes they are. One question I have though is for the readers of The Interviewer. With these new tools in hand, should I go back and re-do all the interviews and clean them up a bit. Or should we move on from the past and simply progress?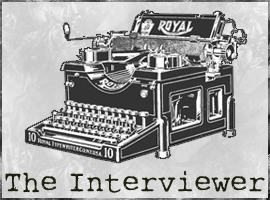 Also there seems to be no more text limit, which I find awesome. I'm gonna ask Tom a bit more about this. So far so good though.
<b>BOLD TEST</b> <i>italic test</i> <u>underline test</i>